Lincoln's current Navigator has been around for more than half a decade and its core design hasn't changed in nearly a decade which makes it simply not as good as most of its competitors and its arch rival, the Escalade, always had an edge over it in the last few years. In order to change that and demonstrate their intention of becoming a true luxury car brand, Lincoln released back at the New York Auto Show an entirely new model of their largest SUV with the 2018 Lincoln Navigator Concept, a car which shares nothing in common with the older model.
What's new for 2018 model?
These are great news for pretty much anyone because not only means that people will now have more choices but it also gives GM and some other car brands a true reason to innovate in this particular market segment. For now there aren't that many details available about the car but a chief engineer from Lincoln assured us that the new Navigator is in fact based on an entirely new platform.
They didn't say much about it but we do think that they are using a modified Ford F150 chassis with a lot of improvements to its running gear and engine in order to become a better all around vehicle.
New Design – Interior & Exterior
Even though we would be led to believe that the model showcased as the 2018 Lincoln Navigator Concept is far from production with its gull-wing doors, Lincoln seems to be on a roll lately and release production cars very close to their original concepts which was also the case with the Continental. While its doors or even the motorized staircase are very likely not going to be put into production, the car's front and rear ends seems to be finished with Lincoln's new grille design, a really classy feel and conservative lines which really make us think of a true high luxury automobile.
Another feature which will most likely be offered on the production model as well are the car's seating arrangement which currently allows up to six people to take part of the experience. Even though a seven seats model or even an eight seats version in some markets are going to be available, the base Navigator will definitely offer just six seats in order to make for a better experience inside the cabin. However, the car's dashboard design or the floating seats will likely be replaced by something more in line with their other new models.
Under the Hood & Specs
The 2018 Lincoln Navigator Concept is using a 3.5 liter twin-turbocharged V6 petrol engine which might seem identical at a first glance to that of the older model. However, the car is in fact using an entirely new powertrain which Ford developed for their special vehicles. This uses a new engine block, larger turbochargers and a better management system meaning that it should be able to provide well over 400 horsepower and 400 lb-ft of torque, an output which will give the Navigator a rather large lead over most cars in its class.
There aren't any additional details available about it so far but the engine will most likely be mated to a new 10 speed automatic shared with the Raptor and it will drive all four wheels via electronic differentials. This should give it good off-road capabilities but the car is very likely going to be delivered with street tires, so the off-road use will be impaired by those.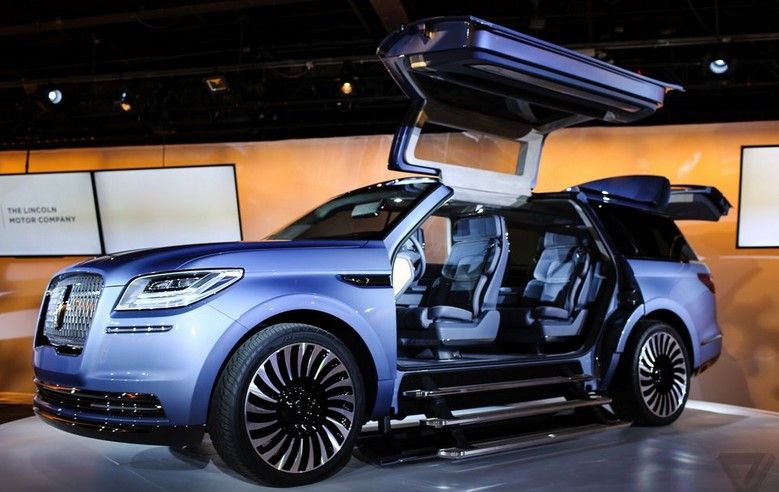 2018 Lincoln Navigator Concept Price
Lincoln said that the new model will likely be showcased in the finished form some time by the end of the year and when it will hit the market later, the price should hover around $70,000 which would mean a 10% increase over the older model.
Competitor: Ford Expedition for 2018 year.