One more hybrid car in lineup coming, this time here's the latest 2017 Volkswagen Crossblue. Volkswagen, like most other car companies out there, have been left in the dust by Tesla with their electric cars. This was not a problem up until a few months ago but after the diesel scandal broke out, the big German company started to lose some of its customers and their diesel models started to sell worse than before.
Because of that, VW decided that it might be the right time to restart the development program for their electric cars and not too long after that they even released and entirely electric based platform. One of the first cars to hit production that will be based on this platform is likely going to be the 2017 Volkswagen Crossblue.
Its name is quite familiar for the fans of hybrid cars because they did release a concept car back in 2013 and since then VW stated a couple of times that they are going to build the car. Well, after nearly three years of uncertainty it seems that the car will finally hit production some time in the next year.
New Design – Interior & Exterior
While VW's most current cars are using similar parts inside the cabin and a very similar design across the range, the 2017 Volkswagen Crossblue has been rumored to be quite a bit more different. Instead of using the same dashboard and general layout of the Touareg, the car will receive a less cluttered design with large LCD screens instead of the usual physical buttons, better materials throughout the cabin as well as a better driving position thanks to the fact the new platform will house most of the electric components inside the chassis.
The 2013 concept car was looking revolutionary for its day and it certainly was a departure from VW's usual design scheme. However, because time passed, VW already used the same type of design on their newest models such as the Tiguan or the Passat and this is unfortunate because it means that the large crossover will definitely look like all of their other models, only slightly bigger. Its close sibling on the other hand will depart from this type of design and it might just become the more desired car of the two.
The Engine range & Specs
Because VW had a lot of problems with their diesel engines lately it is highly unlikely that the hybrid powertrain of the concept car will be used on the production model. Instead, it seems that the production 2017 Volkswagen Crossblue is actually going to go full electric which would actually make a lot of sense considering that the seven seats Tiguan, a similarly large car, will be available with petrol or diesel engines.
At this point in time VW doesn't really have a suitable powertrain for it but not too long ago Porsche did showcase a new type of electric car with a range of over 300 miles and a recharge time of around 15 minutes. This system is very likely going to find its way onto the Crossblue but instead of offering four electric motors with up to 600 horsepower, the car will likely get something a bit more reasonable.
We expect it to hit the market with two electric motors, a combined output of around 300 horsepower and 400 lb-ft of torque and a total range of 300 miles, more than enough to allow VW get a piece of the electric car market.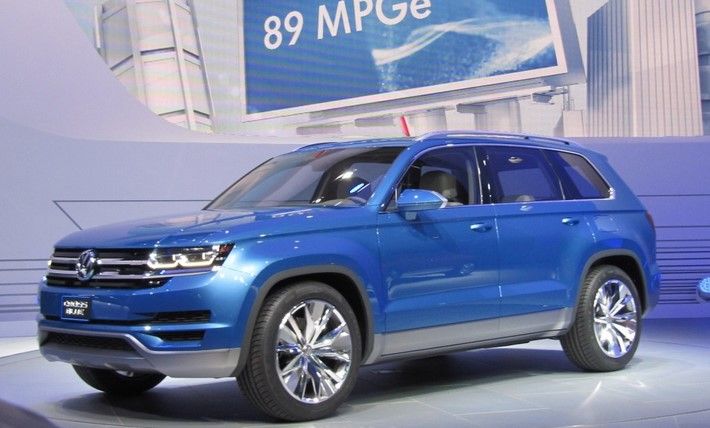 2017 Volkswagen Crossblue Price
The price for the model is still unknown at this point but considering that it will be similar in size to an Expedition and that it will house up to seven people, it is safe to assume that a base model will go past $60,000.
The good part is that a cheaper version will also be released with the Skoda Kodiaq, a car which will be nearly identical but more than $10,000 cheaper.